Day Four: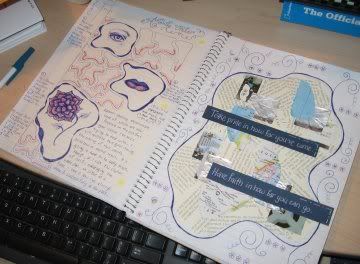 The left page is sketches with notes about why I decided to draw each of these random images. This entire page was done using red and blue papermate pens. The right side is a collage using old book pages, bits of maps, chai wrappers, Asian images, scrapbook paper, blue papermate pen, pink gel pen, green gel pen. The phrases say:
Take pride in how far you've come.
Have faith in how far you can go.
There will be more later, I'm sure. I wanted to turn the page and keep going, but I can't neglect work. I'm sure I'll be back on here later on with more.